Our Father's Day Brunch is the a favourite with Dad's from across the GTA. Feed Dad on Father's Day. It's a wonderful way to spend some time with him on Father's Day – and all dad's love to eat when one of the kids picks up the tab!
Brunch Traditions
orange and apple juice
fresh buttery croissants, danish and muffins
country sausages and crispy bacon
onion bacon and spinach feta frittata
waffles and pancakes, whipped cream, maple syrup, strawberry compote
made-to-order omelettes:
mushrooms, cheese, peppers, scallions, ham, bacon
Salad Bar
chopped salad with an assortment of dressings
traditional caesar salad, lemon garlic croutons, parmesan cheese
roasted sweet potato spears and caramelized apple bacon vinaigrette
heirloom tomatoes and grilled asparagus, red onion slivers, shredded bocconcini cheese, torn herbs
organic quinoa, mediterranean vegetables, basil vinaigrette
Charcuterie & Cheese
assorted bread presentation
charcuterie presentation, marinated olives and pickled vegetables
international and domestic fine cheese board
Carvery
slow-cooked herb crusted "aaa" beef striploin
brandy peppercorn sauce
Mains
pesto crusted chicken, vegetable ratatouille, chardonnay cream
asian vegetable stuffed basa fillet, hoisin ginger sauce, braised bok choy
butternut squash ravioli, smoked tomato vodka sauce
roasted mini potatoes, herbs, sea salt cracked pepper
spring vegetable medley
The Waterside Inn Sweet Table
assorted gourmet gateaux including vanilla cheesecake
chocolate silk truffle, lemon bar
homestyle butter tarts
fresh seasonal fruit display
$32.95/PERSON (Plus taxes and gratuities )
Children under 12 are half price, children under 2 are free.
Seatings available at 11am & 1:30pm
(905) 891-7770 extension 7123 dining@watersideinn.ca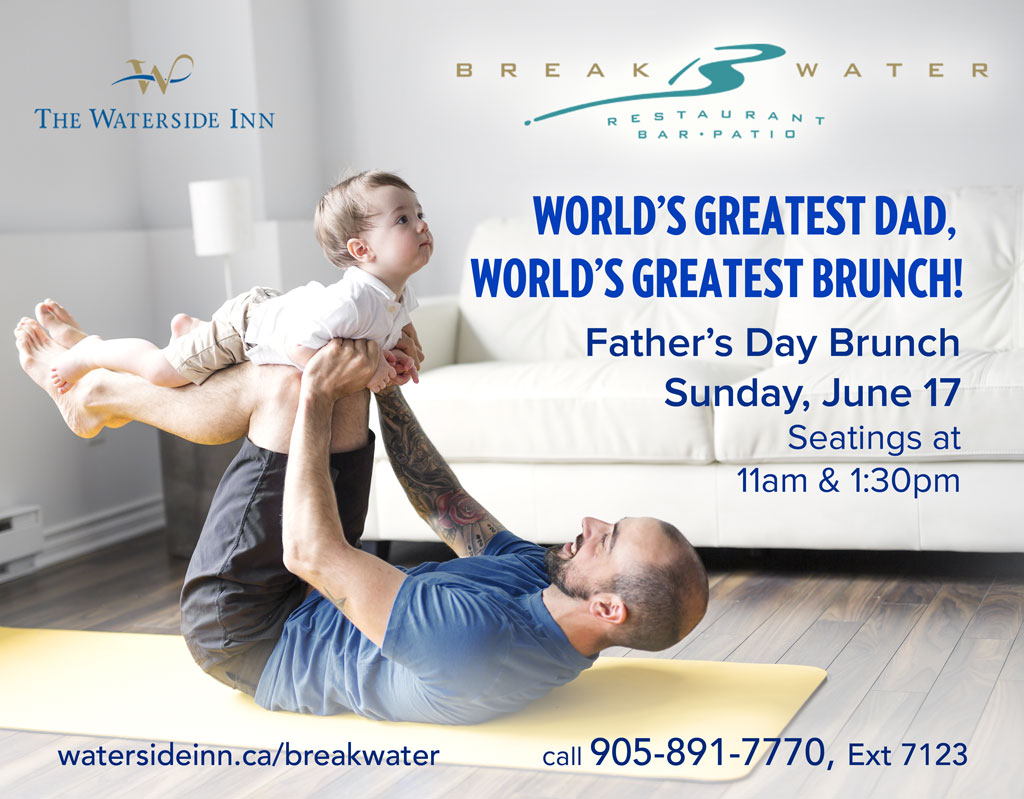 Download the Father's Day Brunch Menu as a PDF
For reservations, call (905) 891-6225 or