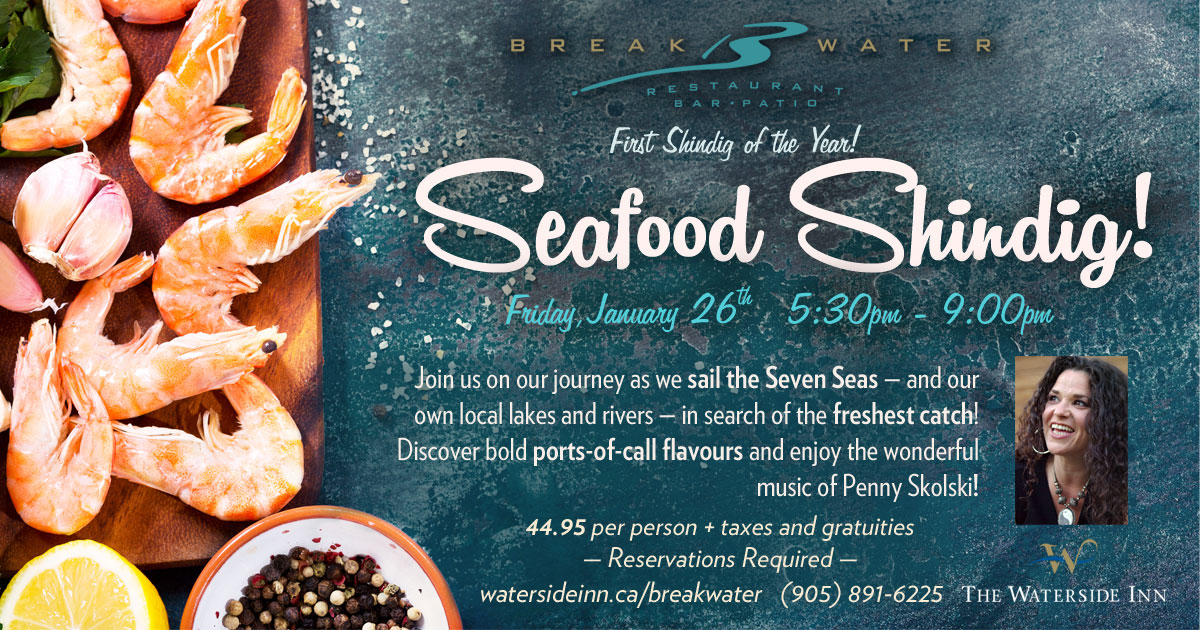 Join us on our journey as we sail the Seven Seas and/or our Lake System in search of the next catch, mixing the bold ports of call flavours from the world's waterways!
Our next Seafood Shindig is Friday, January 26th and features live music with Penny Skolski!
The first Shindig of 2018!
Seafood Shindig Menu
Beverage
Ginger Beer Iced Tea
Live Action Stations
Seafood Risotto, Lobster Cream Sauce
PEI Black Mussels, Pesto White Wine Sauce
Chef's Choice of Oysters and Mignonette
Salad Bar
Garden Green Salad and Topping Bar
Classic Caesar Salad
Teriyaki Glazed Baked Salmon Fillet
Watermelon Tarragon Ceviche
Peel and Eat Shrimp with Sriracha Spiced Cocktail Sauce
Grilled and Chilled Mediterranean Vegetables
Mains and Assorted Hot Sauces and House Made Dips
Assorted Hot Sauces and House Made Dips
Soup Kettle: Chef Aura's Seafood Chowder and Warm Cheddar Bread
Local Freshwater Catch of the Day
Market Choice Saltwater Catch of the Day
Chef's Choice Crispy Catch
Lemon Tarragon Basmati Rice Pilaf
Winter Vegetables & Roasted Lemon Potatoes
Dessert Table
Blueberry Bread Pudding, Spiced Rum Anglaise
Tortes and Selected Micro Desserts
$44.95 per person plus tax and gratuities
Meat-lover & Vegetarian Options
Starters
10 Salad Bar (available only with the purchase of a main entrée)
Main Entrees
18 VEGETARIAN "ALFREDO" LINGUINE
baby spinach, black truffle , fresh pecorino, fresh cut basil
25 CRISPY SKIN CHICKEN SUPREME
mashed potatoes, roasted root vegetables, bacon cider pan jus
38 "AAA" 10OZ GRILLED NEW YORK STEAK WITH WILD MUSHROOMS AND CREAMED SPINACH
braised potatoes, roasted root vegetables, veal reduction
Desserts
8 Dessert Bar (available only with purchase of a main entrée)
Download the Seafood Shindig Menu Menu as a PDF
For reservations, call (905) 891-6225 or