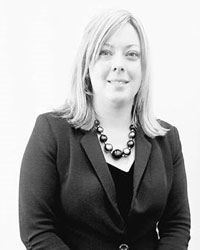 The Waterside Inn is pleased to welcome the newest addition to our amazing team, Group Sales Manager, Carolyn Halliday!
We are happy to announce our latest wonderful addition to The Waterside Inn Sales Team.
With over 14 years of experience in the Hospitality industry, Carolyn is an engaging sales oriented professional. Carolyn started her career in food and beverage and front office operations, moving into sales and catering later to the position of Sales Manager. Her passion transitioned to group sales, continuing strong work ethics and practicing the truth of warm hospitality!
Carolyn's journey started as a proud graduate of the Georgian College Hotel & Resort Administration program, and she is currently enrolled in the Greater Toronto Hotel Association Hotel Leadership program in partnership with Humber College because she has a passion for hospitality industry knowledge.
Carolyn is proud to have worked with various brands of hotels including Holiday Inn (full service and Express brands), Hilton, and Radisson. She is excited to announce her current appointment to Group Sales Manager at the beautiful Waterside Inn, Port Credit.
Please feel free to either call her or at 905-891-7192 or email her at challiday@watersideinn.ca