The Waterside Inn is the perfect place for your organizations meeting or conference. Large or small, we can accommodate your group for an afternoon meeting or for a series of get-togethers over a longer period of time. Our central location on the shores of Lake Ontario provides you with access to a range of activities across the Greater Toronto Area to highlight your conference and enhance the experience for your attendees.
We're also happy to announce our Seasonal Meeting Packages. Each season, we'll offer a new package designed to accentuate the four seasons of Southern Ontario, and make your stay as unique and interesting as our beautiful environment.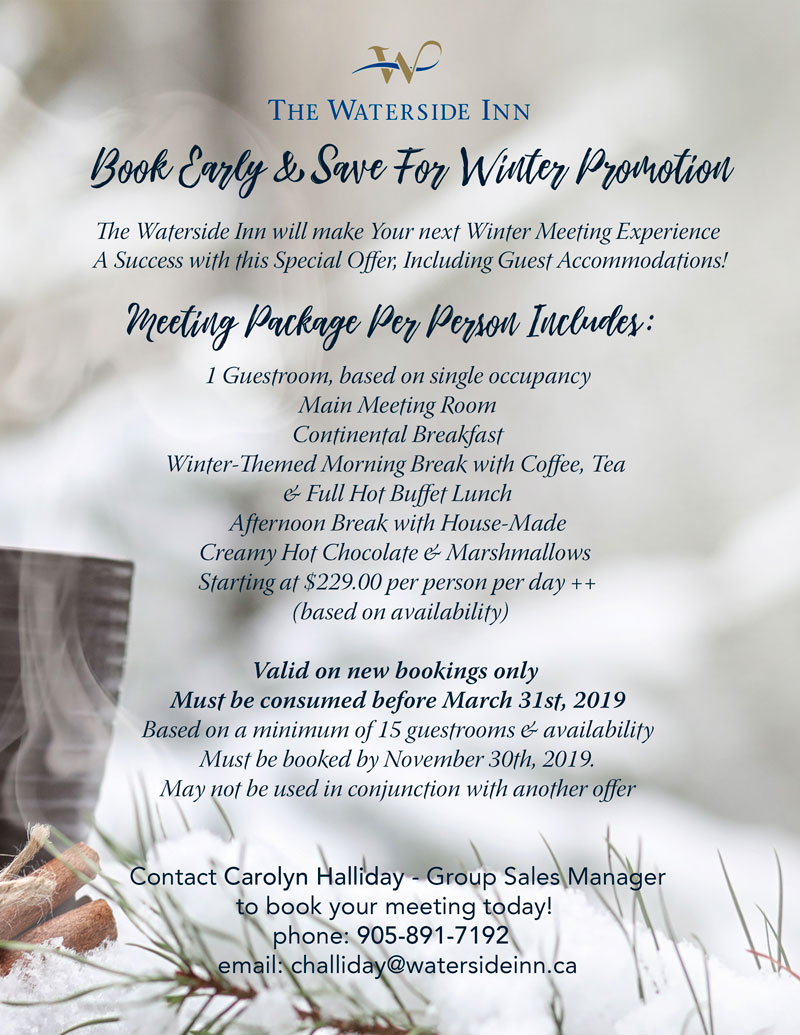 Book Early & Save For Winter Promotion
The Waterside Inn will make Your next Winter Meeting Experience A Success with this Special Offer, Including Guest Accommodations!
Meeting Package Per Person Includes:
1 Guestroom, based on single occupancy
Main Meeting Room
Continental Breakfast
Winter Themed Morning Break with Coffee, Tea &
Full Hot Buffet Lunch
Afternoon Break with House Made
Creamy Hot Chocolate & Marshmallows
Starting at $229.00 per person per day ++ (based on availability)
Valid on new bookings only
Must be consumed before March 31st, 2019
Based on a minimum of 15 guestrooms & availability
Must be booked by November 30th, 2019.
May not be used in conjunction with another offer
Contact Carolyn Halliday – Group Sales Manager to book your meeting today!
Phone: 905-891-7192
E-Mail: challiday@watersideinn.ca