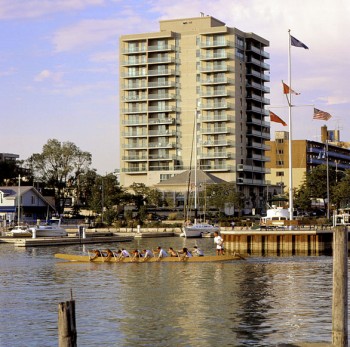 The Waterside is a unique hotel Mississauga hotel set in a village by the lake, and just a short train ride away from Toronto, Canada's largest city. Yet it is a world apart … welcome to The Waterside Inn.
Our luxurious boutique waterfront Hotel and Conference Centre is nestled in beautiful Port Credit, Mississauga – just 20 minutes from both Pearson Airport and downtown Toronto. Service is at the very heart of our hospitality. Our personal, attentive staff anticipate guests' needs in an atmosphere of quiet efficiency and genuine friendliness.
Each of our luxurious guest suites has a character and charm of its own: all uniquely decorated, tastefully furnished and providing the ultimate in comfort.
The Waterside Inn is the ideal setting for your important meeting or conference. We offer short-term and long-term stays, and our guests come again and again. We are the only Mississauga hotel that can offer sweeping views of Lake Ontario, the comfort and vibrance of a charming village, close proximity to transit and shopping and fine dining in Breakwater, our award-winning restaurant. Come and experience the unique charm of The Waterside Inn.
WiFi access is available in the Breakwater Restaurant, on the patio, and in our main meeting space.
Our Pet Policy
We love pets and allow pets under 15 pounds. There is a $20 per day additional cleaning fee. A pet policy must be signed and a security deposit of $500 is required upon check in and is refundable upon check-out after suite inspection by the Hotel Management.
A Baby Shower to Remember
I wanted to send you an email to say how happy I was with the service I had for my baby shower yesterday. Thanks to you and all the staff and the Waterside Inn, it was a great success. My guests were all very impressed with the venue, food and service. It was a fantastic afternoon. Your help throughout this process was stress free and you always accommodated my every need. I can't express how impressed I was with everything (especially the way the personalized menu cards turned out). I was able to come Saturday night to set up and everyone that I dealt with was so helpful and accommodating. Thanks again for a great experience. I will definitely keep the Waterside Inn in mind when planning other special events.
The event was a great success and all our guests enjoyed themselves. The food and service was top notch as always. Thanks again for setting up the hall just right and making it a memorable day for us all. Please again give our thanks to the support staff who were awesome and took care of us all impeccably yesterday. Our friends and family were quite impressed with the venue, food and service and have asked for your contact info to discuss possibly having their events there as well. So FYI, I will be sharing your information with them.