Port Credit, Mississauga's Quaint Village by the Lake offers a variety of activities for any group to enjoy:
Team Building at the Don Rowing Club, Old Port Credit Brewery or The Crooked Cue.
Bonding over an interactive Wine Pairing Experience at The Waterside Inn, Boating on Lake Ontario with Andrew's Charter, or playing a round of golf at Lakeview Golf Course.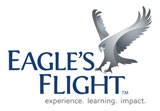 The Waterside Inn is proud to partner with Eagle's Flight for select team building experiences. Eagle's Flight is an innovative leader in the development and delivery of practical training programs for the global business community. Through the use of experiential learning, we assist organizations of all sizes in gaining a competitive edge by significantly strengthening their workforce.