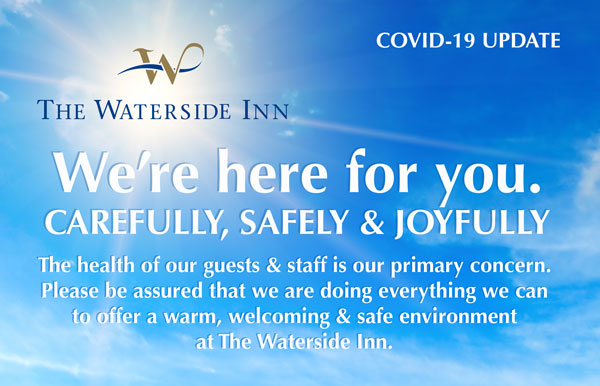 As we continue to deal with the difficult challenge of responding to the coronavirus (COVID-19), The Waterside Inn would like you, our loyal customers, to know we are doing everything possible to keep the safety of our guests and our employees.
We are closely monitoring the World Health Organization (WHO), the Centers for Disease Control & Prevention (CDC), and local health agencies for the latest developments related to COVID-19 as well as following the guidance of government and public health officials.
The Waterside Inn has stayed open throughout the pandemic because we are considered an essential business. Not only do we have long term guests in the hotel but also individuals who travel for essential business.
As the situation concerning COVID 19 has escalated, we have escalated the health & safety precautions and guidelines mandated by the government. Our goal is to reassure our guests that we are doing everything possible to keep them safe. The safety and security of our guests and employees remains our highest priority.
We have always taken great pride in maintaining the highest standards of cleanliness and hygiene and as the situation surrounding the coronavirus (COVID-19) continues to evolve, we are doing everything we can to ensure our guests' travel safety and provide maximum flexibility. In response to the coronavirus, we have taken additional measures to help keep our guests and staff members safe. Following is a list of new things we have implemented:
Upon check in, each guest must fill out a form advising of us if they are sick, if they have traveled and if they have self quarantined prior to arrival. We have the right of refusal.
We have installed shields at the front desk.
We have added decals advising people where they should stand while in the lobby.
Hand sanitizer is available in public areas.
High touch areas are frequently being cleaned
When you are ready for a Break From The Ordinary and looking for some fresh air, surrounded by Lake Ontario, Credit River, Paths and Trails, The Waterside Inn is here waiting for you.
Visit watersideinn.ca or call (905) 891-7770 for more information or to reserve.
Stay Safe, Stay Well, Stay Strong. This Too Shall Pass